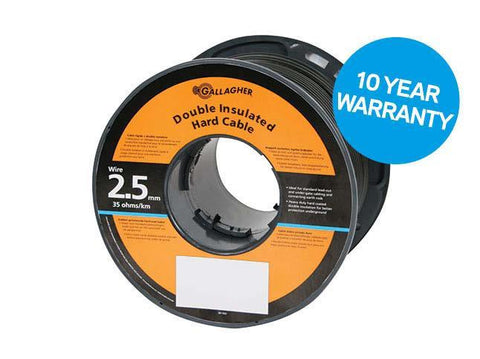 330' Underground Leadout Fence Wire | Free USA Shipping
BUY HERE!
GALLAGHER 330' LEADOUT CABLE 
 Free USA Shipping to the lower 48 states.

Suitable for under gate cabling to ensure effective power transfer between fence sections, also suitable for initial lead out lengths (Energizer to start of fence system) of less than 1/3 mile.
Features
​Low resistance to maximize power transfer
Heavy duty double insulation (place cable inside plastic pipe before burying only if there is machinery/vehicle traffic over the cable)
Tough polyethylene protection for abrasion resistance in the ground, ensuring long life and durability
Also suitable between ground rods in a ground system
Resistance: 59 Ohms per mile​
Black in color
---
We Also Recommend
---